Lockdown, Corona Virus and Maitri Griha
Lockdown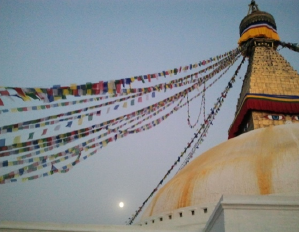 Never ever before were so silent street of Kathmandu, alley of Thamel. Only the street dogs are barking and looking for the food. The stupa which used to be full of pilgrimage is empty now. Only the prayers flags are fluttering in the air. Prayers wheels used to make a lot of sound, now it is silence and still stand. Boudhanath Stupa known as little Tibet in Nepal is quiet. Many people have left Kathmandu valley. Whoever could scape Kathmandu, just has already hoped out of Kathmandu. Remaining ones are looking for the reopening of the country's lockdown, some even do not have somewhere to go. There has been country-wide lock down since 24th March and is scheduled to end on 18 th May, for country like Nepal it is really painful. Life for many daily wage workers are getting miserable.
Covid19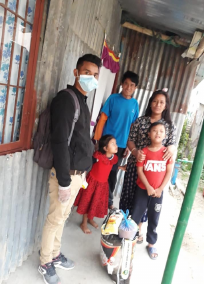 The deadliest contagious corona virus is spreading all over the world. Even though Nepal is boarder to China. It is not easy to go to china to Nepalese than people from other major cities around the world. Due to limited direct contact with china, Nepal is having less expose to corona virus. But on the other hand, more than 25% of GDP of the country is coming through remittance. Most of them work in India, Gulf countries, Malaysia and other parts of the world, these countries are well connected, if not very well connect to China. As a migrant worker, they are in mass accommodation, this will make them difficult to keep social distancing rules. Nepal has so far 90 confirmed cases according to the Government data. But when we count Nepalese abroad, there are more than two thousand and over 48 deaths to this date. Especially due to financial crisis Covid 19, many of these host countries are going to send back Nepalese migrant worker and there are many Nepalese abroad who wants to comeback as soon as the lockdown is open on their own. If Hundred thousand people are coming back, among them will be many more corona viruses infected. This will be very hard for the country to take care of them.
Home Visit and Life under Lockdown (MG Children)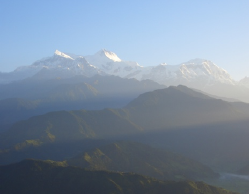 A small room with Four Family Member in one Room under tin roof. Two Beds in this small Room and gas stove to the corner, where Nima lives with Mother, Father, and Younger Sister, who visited Maitri Griha before lock down. Nima's father is Mountain guide. This should be his busiest time going to the mountain and show them highest mountain range and share his story with Tourist. Trekking season is for two seasons in Autumn and spring in Nepal. Where they make their living for the rest of the year. Unfortunately, this spring he is not in the mountain rather locked down in his small room with his family. He has planned to make some money during March to April season, so that he could sustain until Autumn season September to November. But now his plan is all gone. With lockdown, everything is so worst that he cannot plan what to do, even to feed his family he wants to go out of his room and do labor job but it is not possible, this is very hard for his family. He does not have saving.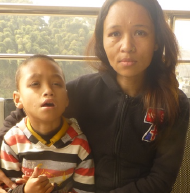 Habakub 7 years old, he has just joined our project and they were happy to find this project, that now they could send their 7 years old boy to Maitri Griha, day care center and mother could go for work and earn some money. But unfortunately, their plan has gone to wrong direction. As being untouchable caste in the village, life is harder for them in village than in Kathmandu, but here too Corona has ruined their life. Father as a sole earner used to work as statue manufacturer, since few months he has been out of the job. They would like to go to village. But it is lockdown. Life is really getting terrible hard with their child. During home visit, we found them in very sad and poor condition.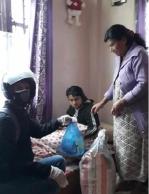 Shubani lives with her grandmother. Her mother left her, when she was a baby. Her Grandmother was saying it is very hard for her to be with Shubani whole day at home. The more to worry is about food for most of the family. As most of the MG children are from backward family. Most of the family are daily wage earners, no earning per day means no food in the evening.
Fundraising Program Maitri Griha (Covid 19 Fund 2020)
All those children who used to come to Maitri Griha its very hard for them. For many of them small room and no place to go around. They have a poor condition; corona virus is even cruel and harsh for them, and making life even worst.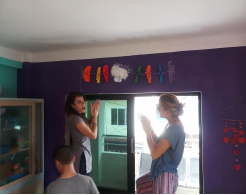 Lockdown in minimum space is like a Jail for them, 4 people in one room with mentally challenged children, without single penny. It is hard life and very much suffering. Many business owners are now bankrupt in Nepal. Even our little social project Maitri Griha will have very hard time and may be going for worst time. Our one of the major incomes to run the project is fund raised through Volunteer they come to Maitri- Griha who stayed at our place. Even the 5-star Hotel in Nepal is going to close until the end of 2020. We hardly can imagine, if there will be any volunteer at our project. This is the story of every single person facing uncertain business and project in Nepal, those who are relying on tourism industry. This virus has dragged down mankind to knee, weaker, vulnerable and mentally challenged children and their families are struggling for existence, in the context of countries like Nepal. Many families having physically and mentally challenged children and they are already living under poverty, as their both parents cannot go out and work and, there isn't enough support for this group. We just hope, we could hold their hand and support just for little, at the time of critical moment, sometime little support saves life and gives hope. We are looking forward to create Covid 19 Fund 2020 for Maitri Griha for the difficult year 2020 to save this project. Please help us to keep the project go on.
On Behalf of Maitri Griha Family
Mhindup Lama
07.05.2020
Maitri Griha
Gokarneshwor-9, Aarubari, Kathmandu, Nepal, G.P.O Box: 23741
E-Mail: Diese E-Mail-Adresse ist vor Spambots geschützt! Zur Anzeige muss JavaScript eingeschaltet sein! Website: www.maitri-griha.org